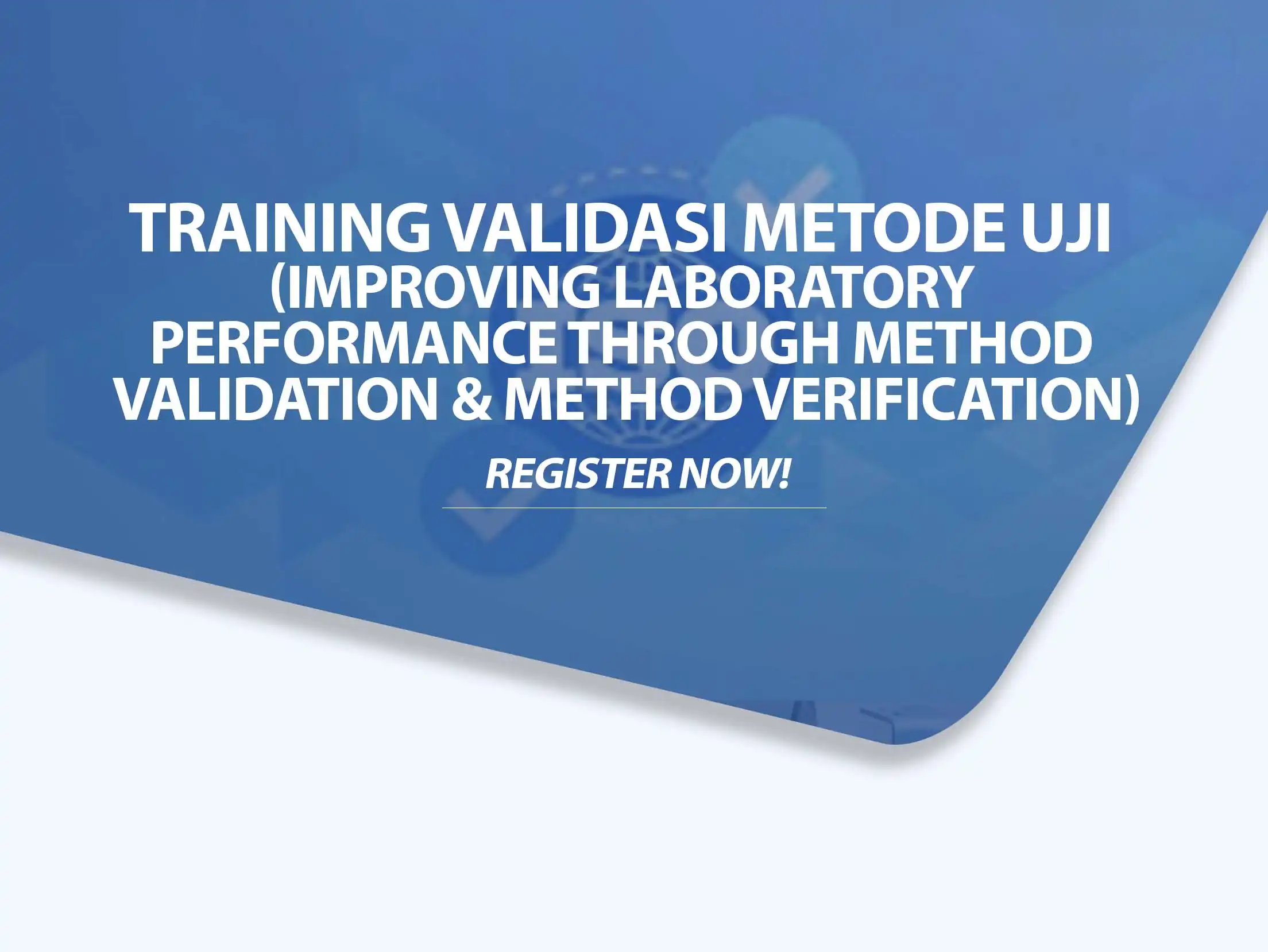 Training Validasi Metode Uji
Untuk mengetahui performance suatu metode secara periodik seiring dengan perubahan kinerja peralatan laboratorium yang digunakan di dalam metode uji tersebut, dan untuk memenuhi persyaratan ISO 17025 yang salah satu klausulnya mensyaratkan validasi metode uji sehingga presisi dan akurasinya bisa dipertanggung jawabkan.
Garis Besar Materi Training Validasi Metode Uji
• General Overview
• Method Validation against Method Verification
•  Testing Method & Measurement Process
• Investigating Measuremet Sensitivity (Detection Limit and Quantitation Limit)
• Establishing Linearity of Measurement
• Estimation of Highest Limit of Measurements
• Determination of Accuracy and Precision
• Comparison to Reference Method
• Investigating Method Selectivity
• Determination of Method Ruggedness/Robustness
Siapa yang Perlu Menghadiri Training Validasi Metode Uji ini ?
Training validasi metode uji ini perlu dihadiri oleh manajer Pelatihan dan Pengembangan, Manajer Mutu, Manajer Teknis, Manajer Laboratorium, Teknisi penguji dan teknisi kalibrasi, Penyelia Laboratorium, Wakil Manajemen (Management Representative), Semua yang terkait dalam pengembangan manajemen laboratorium yang memenuhi ISO 17025 :2005 di perusahaan / organisasi / unit usaha / laboratorium
Jadwal Pelatihan 
Jadwal Training Online 
Online, 20 – 21 Juli 2023
Online, 19 – 20 September 2023
Online, 05 – 06 Desember 2023
*(Training Online dilaksanakan pada Aplikasi Conference bisa diakses via Mobile ataupun Laptop/PC, info lebih lanjut hubungi kami)
Jadwal Training (Tatap Muka)
Investasi
Investasi Training (Online)
Rp. 5.999,000- Rp. 3.250.000.-

FASILITAS TRAINING ONLINE:

Sertifikat Kehadiran 
Softcopy Materi
Investasi Training  (Offline/ Tatap Muka ) :
FASILITAS TRAINING OFFLINE:

Rp. 8.649.000,- Rp. 5.499.000,-
Modul Training  (hardcopy / softcopy)
Training Kit
Tempat training di hotel berbintang,
Makan Siang, coffee / tea break,
Sertifikat Attendance
Foto Bersama
MENGAPA MEMILIH PHITAGORAS?
Berdiri sejak tahun 2003, Phitagoras merupakan PJK3 Resmi Kemnaker dan satu – satunya QHSE Training & Consulting di Indonesia yang sudah memiliki sertifikat ISO 9001:2015 & OSHAS 18001:2007 dari British Standards Institution (BSI) serta memiliki 3 akreditasi internasional dari NEBOSH UK, CIEH UK dan British Safety Council. Phitagoras juga memperoleh lisensi Tempat Uji Kompetensi BNSP melalui LSP K3 ICCOSH dan LSP OSHE Nusantara.
Phitagoras sudah mendapatkan sertifikat verifikasi Tempat Uji Kompetensi dari Lembaga Sertifikasi Profesi LSK K3 ICCOSH no 230/LSP LSK-K3/III/14 & LSP OSHE Nusantara.

Pendaftaran Awal Training