July 11, 2014
Posted by:

admin

Categories:

British Safety Council, Health Safety Environment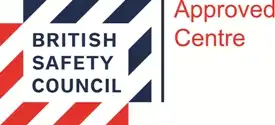 OVERVIEW BRITISH SAFETY COUNCIL LEVEL 3 CERTIFICATE IN OCCUPATIONAL SAFETY AND HEALTH
British Safety Council Level 3 Certificate in Occupational Safety and Health – In 2011/2012, in UK workplaces, 173 workers were killed and over 27,000 were seriously injured. Some 1.3 million people suffered from an illness they believed was caused or made worse by their current or past work and 28.5 million working days were lost as a result of occupational injury and ill-health.
In addition to the tragic loss of life and personal suffering, employers found themselves faced with court fines and costs, increased insurance premiums, compensation claims, reduced productivity, damaged reputation and lower staff morale.
The vast majority of occupational accidents and incidents of ill-health can be avoided by good health and safety management. With this in mind, the British Safety Council offers the Level 3 Certificate in Occupational Safety and Health, a nationally-recognised qualification for people with responsibility for aspects of health and safety in the workplace.
The content of the Level 3 Certificate has been mapped to the National Occupational Standards for Health and Safety and reflects the management model in HSG65 'Successful Health and Safety Management', the Health and Safety Executive's guide on how organisations should manage health and safety.
SUBJECT CONTENT
Organising for health and safety, Developing a positive health and safety culture, Preventing accidents, Occupational health provision, Principles of health and safety law, The Health and Safety Work Act 1974, Offences, penalties and enforcement, Health and safety management, Risk assessment, Persons at particular risk, Safe systems at work, Safe workplace, Personal protective equipment, Fire, Emergency planning, Electrical safety, Work equipment, Occupational transport and driving, Construction and demolition, Working at height, Manual handling, Mechanical handling and lifting operations, Display screen equipment and workstations, Chemical and biological hazards, Reporting and investigating incidents, Protecting the environment.
The course has two Units 1 (Principles of Health and Safety Management) and 2 (Controlling Hazard in the Workplace) studied over 10 days – Monday to Friday. The two written examinations will be held on the last Saturday.
WHO SHOULD ATTEND BRITISH SAFETY COUNCIL LEVEL 3 CERTIFICATE IN OCCUPATIONAL SAFETY AND HEALTH ?
The BSC Level 3 Certificate in Occupational Safety and Health is for personnel with health & safety responsibilities e.g. managers, supervisors, safety officers, non-safety specialists etc & who need a grounding & recognised qualification in occupational safety & health. It is also beneficial for those wanting to further their career in the HSE field or those who wish to enhance their HSE knowledge
ASSESSMENT & CERTIFICATION
The qualification is assessed in English only. Assessments will be presented in English and candidates must respond in English.
Assessment comprises two 90-minute written examinations
Certificate is issued by British Safety Council UK
Candidates for whom English is a second language are advised that their reading and writing skills should be equivalent to at least Level 6 of the International English Language Testing System (IELTS) Test for Non-Native Speakers of English. Candidates may obtain information on this language testing service from the IELTS website (www.ielts.org).
PROFESSIONAL BODY MEMBERSHIP
Holders of the BSC Level 3 Certificate in Occupational Safety and Health are eligible for membership of the following professional bodies, subject to meeting the necessary post-qualification experience requirements: Institution of Occupational Safety and Health. – Tech IOSH and International Institute of Risk and Safety Management (IIRSM). – Associate Member
ENTRY REQUIREMENTS
There are no formal entry requirements for the Level 3 Certificate, but candidates should have a level of literacy adequate to cope with the examination. This recommendation is intended to ensure that all candidates who enter for the Level 3 Certificate can undertake the examination with a reasonable expectation of success.
INVESTMENT:
USD $1903 (Course Fees) + USD $0.00 (Registration Fees) + USD $196 (Exam Fees) = USD $ 2099

THE COURSE FEE INCLUDES:
Lunch, 2 x Coffee and snacks each day, 10-Days Tutorials, 1 Day Examination, Course Workbook & Training Kit
THE COURSE FEE EXCLUDES: Hotel accommodation
COURSE SCHEDULE: Please Call Us
(The Course will be consist of 10 Days Training + 1 Day Examination)
TRAINING lOCATION
click here to see training location
The Course also could be delivered in your company premysis.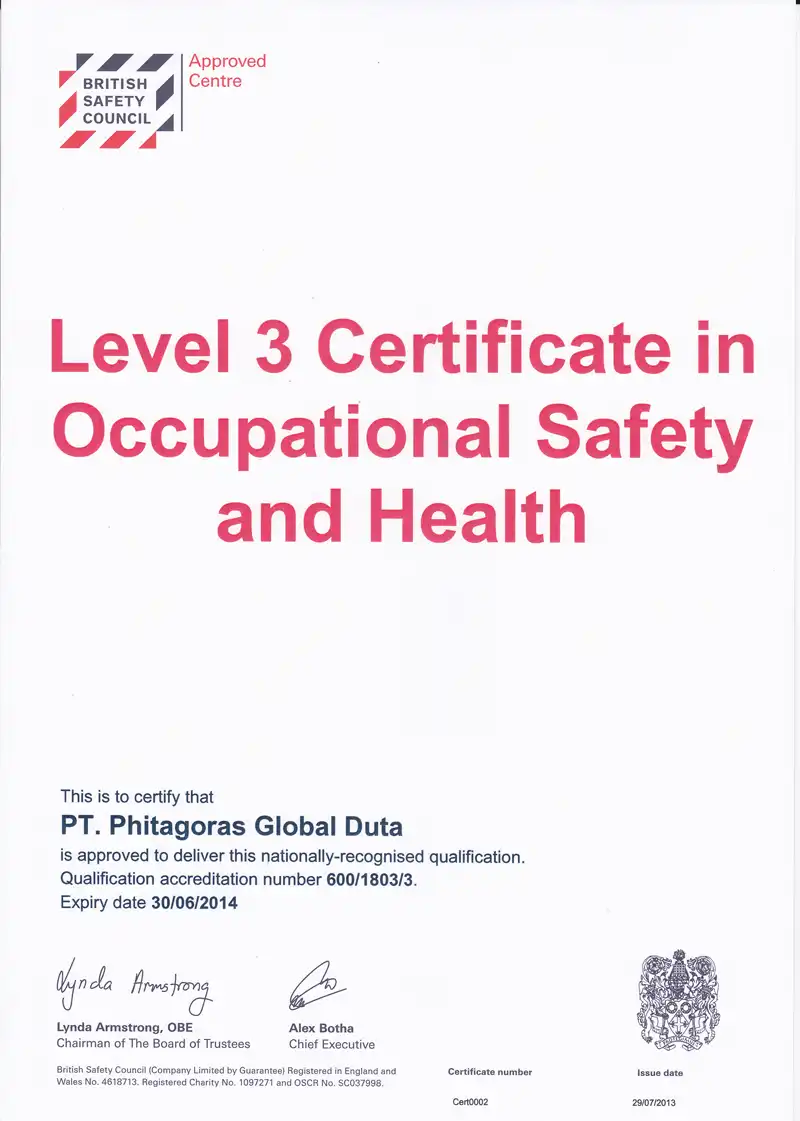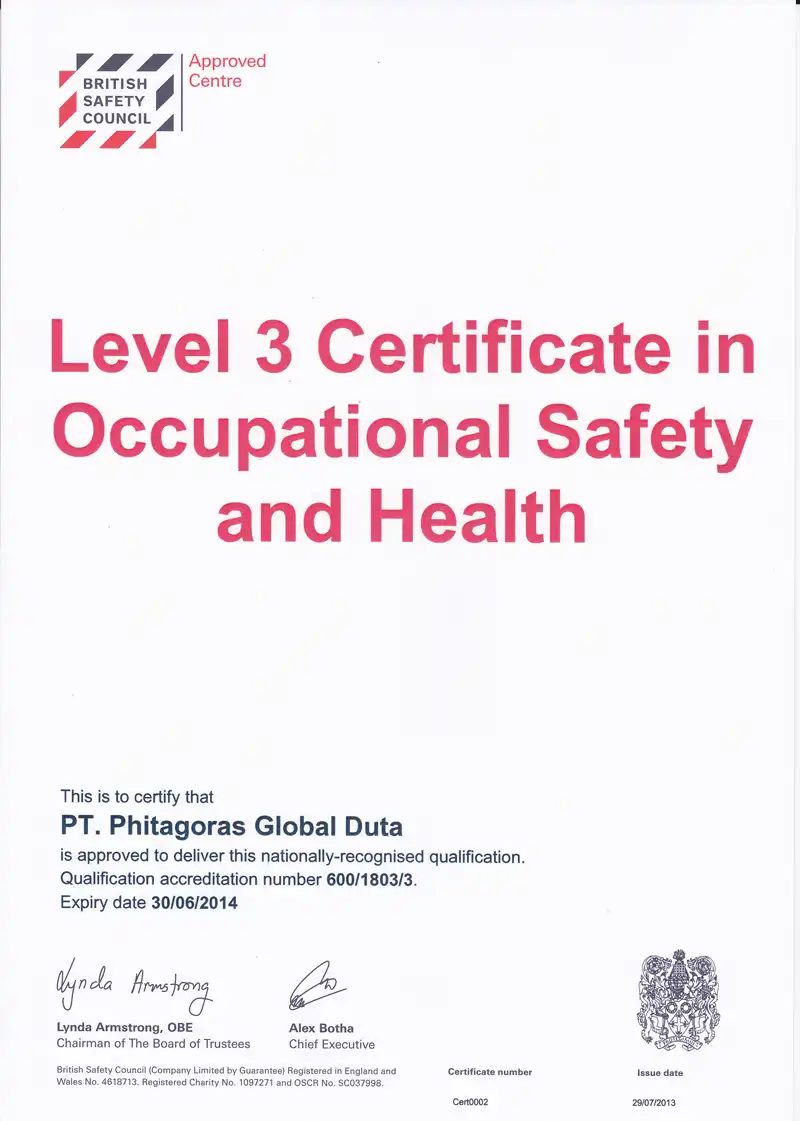 Phitagoras sudah disertifikasi ISO 9001:2015 oleh BSI dengan nomor sertifikat FS 669848 dan OHSAS 18001:2007 dengan nomor sertifikat OHS 669850