June 16, 2013
Posted by:

admin

Category:

CIEH Training
TRAINING CIEH FOOD SAFETY
NEW COURSE!
Training CIEH Level 3 Award in Supervising Food Safety in Catering
Training CIEH Level 3 Award in Food Safety Supervision for Manufacturing
Training CIEH Level 3 Award in Food Safety Supervision for Retail
In line with the National Occupational Standards reflecting sector-specific needs, these training  CIEH Food Safety level 3 Award provide a thorough understanding of food safety procedures emphasising the importance of monitoring staff and controls.
WHO NEEDS THIS QUALIFICATIONS?
Managers and supervisors in small, medium or large catering, manufacturing or retail businesses. Particularly relevant for those who have to develop or monitor HACCP based food safety management procedures and systems.
WHY IS THIS TRAINING CIEH FOOD SAFETY IMPORTANT:
Anyone working in a supervisory position in the food business is not only responsible but also accountable for food safety. It is therefore vital they are equipped with both the knowledge and confidence to do their job effectively. Tuition is in English but the final examination paper can be taken in English, Chinese or French.
LEARNING OUTCOME
Ability to implement and supervise a food safety management system
Understand food safety procedures
Understand the concept of food hazards and the risks associated with them
Understand the terminology with respect to supervising food safety
Understand the techniques involved in controlling and monitoring food safety
Appreciate the risks linked to cross contamination
Understand the role temperature has to play in the control of food safety
Appreciate the importance of supervising high standards of cleanliness in food premises.
COURSE CONTENT
Introduction to food safety
Relevant Law
Food Safety Hazards
Taking Temperatures
Refrigeration, chilling and cold handling of foods
Cooking, hot holding and re-heating of food
Food handlers
Principles of Safe food storage
Cleaning
Food premises and Equipment
Duration: Three-day programme
Investment for Training CIEH Food Safety Level 3 Award : USD $997 USD 898
The training CIEH Food Safety Level 3 Award Fee Excludes: Hotel accomodation, can be arranged by PT. Phitagoras Global Duta if required
The Training CIEH Food Safety Level 3 Award Schedule 2014 :
Jakarta, 5 – 7 February 2014
Bali, 12 – 14 May 2014
Jakarta, 7 – 9 October 2014 
Assessment: Multiple choice examination
Internationally Accredited Yes
Prerequisite Recommended understanding and knowledge of basic food hygiene – ideally the CIEH Level 2 Award in Food Safety taken within the last three years. Candidates who have already achieved the CIEH Level 3 Award in Implementing Food Safety Management Procedures need only attend two of the remaining units of training and pass the multiple choice question examination to gain this award.
Suggested progression: Training CIEH Level 4 Awards in Food Safety
Remarks: All examination papers will be in English. Candidates may request a foreign language paper at time of course booking.
Foreign language papers for CIEH LEVEL 3 SUPERVISING FOOD SAFETY IN CATERING are available in Chinese (Traditional), French, Polish and Portuguese.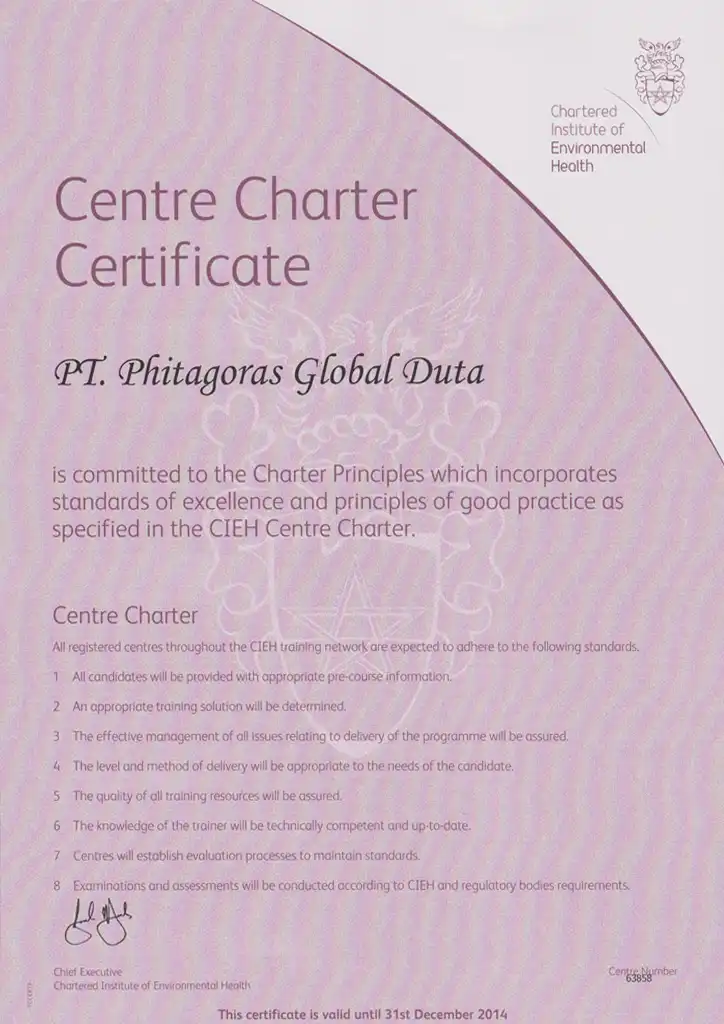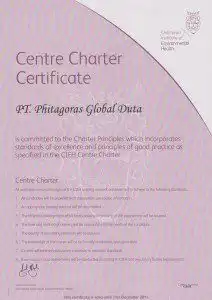 Phitagoras sudah disertifikasi ISO 9001:2008 oleh BUREAU VERITAS Certification, dengan no sertifikat: 234258

Phitagoras sudah disertifikasi OHSAS 18001:2007 oleh SAI GLOBAL Certification, dengan no sertifikat: HSM40409