August 16, 2017
Posted by:

admin

Categories:

Health Safety Environment, International Courses, NEBOSH, NEBOSH Health and Safety, Training Unggulan

Training NEBOSH International General Certificate in Occupational Health and Safety
NEBOSH International General Certificate in Occupational Health and Safety Presented By PT. Phitagoras Global Duta (NEBOSH Accredited Centre No 789) , Indonesia
Training NEBOSH overview
This training nebosh has been developed for multinational organisations in all sectors working in accordance with international standards or directives but adapting to local needs. The Training NEBOSH provides organisations with a global presence seeking to adopt an internationally recognised health and safety training programme for its staff. The Certificate is an internationally recognised qualification and provides an excellent underpinning knowledge of safety & health and a sound basis for evaluating hazards and risks. The syllabus incorporates International, technical and other standards where they exist. In other cases, requirements and practices that represent 'good practice' are followed.
Topics covered during the training nebosh are broken into sixteen elements;
Training NEBOSH International General Certificate in Occupational  Health and Safety
The contents of the course are covered in two units (NEW Syllabus)
UNIT IG 1: Management of Health & Safety
Why we should manage workplace health and safety
How health and safety management systems work and what they look like
Managing risk – understanding people and processes
Health and safety monitoring and measuring
UNIT IG 2: Risk Assessment (Practical Assessment)
Physical and psychological health
Musculoskeletal health
Chemical and biological agents
General workplace issues
Work Equipment
Fire
Electrical
Benefits for Companies in attending Training NEBOSH:
In today's working environment 'Safety' plays a key role in the success of any company. The NEBOSH International General Certificate provides a means to improve the safety awareness of company employees, particularly those involved with operations or directly related to safety. The full time training NEBOSH offered by Phitagoras allows for personnel to be able to dedicate their time to the syllabus and course information and is suited for full time company employees or individuals.
Who Should Attend this Training NEBOSH International General Certificate in Occupational Safety and Health
The Training NEBOSH International General Certificate in Occupational Safety & Health is for personnel with health & safety responsibilities e.g. managers, supervisors, safety officers, non-safety specialists etc & who need a grounding & recognised qualification in occupational safety & health. It is also beneficial for those wanting to further their career in the HSE field or those who wish to enhance their HSE knowledge
Training NEBOSH Assessment and Certification Candidates are assessed by a 2 part written examination and a practical health & safety assessment of a work place situation. Each exam is 2 hours in duration. Candidates must achieve a minimum pass standard in all the examinations and assessment to be awarded the NEBOSH International General Certificate in Occupational Safety & Health. Certification is issued by NEBOSH UK.
For the IGC courses you need to inform the candidate that
"it is a level 6 qualification on the Scottish Framework scale which is similar to a HNC and that we strongly recommend that candidates have the HSW (equivalent) before attending or practical safety work experience. This course is intensive over 5 days and will require candidate to undertake pre-learning and evening homework"
Professional Body Memberships
Holders of the NEBOSH International General Certificate are eligible for membership of the following professional bodies, subject to meeting the necessary post-qualification experience requirements: Institution of Occupational Safety and Health. – Tech IOSH and International Institute of Risk and Safety Management (IIRSM). – Associate Member
Pre-Requisites
It is recommended that candidates have a level 2 qualification and/or practical safety experience.
The course has two Units IGC 1 and IGC 2 studied over 10 days – Monday to Friday. The two written examinations will be held on the last Saturday.
Investment for Training NEBOSH International General Certificate in Occupational Health and Safety
USD $2775.00 (Course Fees) + USD $0.00 (Registration Fees) + USD $315.00 (Exam Fees) = USD $ 3090.00
This fee covers the Tuition, Exam, Study
Materials and other learning resources, IG2 closing interview, tea break and luncheon.
We provide flexible payment option. Full breakdown is available in the *schedule of course fees.
We now accept credit cards
Training NEBOSH Fee Includes
Nebosh Certificate (for all participants who have successfully passed the exam) Training Kits, Lunch and Coffee Break, Hardcopy Module, 10-Days Tutorials, 1 Day Examination,  for the NEBOSH National General Certificate Essential Health & Safety Guide, Course Workbook and NEBOSH Practical Asessment
The training NEBOSH Fee Excludes: Hotel accommodation
Training Schedule 
Offline, 13 – 24 November 2023 (The Training NEBOSH will be consist of 10 Days Training + 1 Day Examination)
Important Files to Read
NEBOSH IGC Syllabus Guide for Learners
NEBOSH  Policy
Testimonial of the participants of Training NEBOSH
Click here to see other testimonials
"Phitagoras provides quality and friendly staffs to assist participants in making this training nebosh an enjoyable and worthy experiences. Instructors are helpful and enthusiast to make sure all students understand module & can do the test well, first class in instruction and first class in services. Well done and congratulate phitagoras for another successful event" Suhanto Halim – BP
"Training NEBOSH IGC yang saya ikuti sangat baik dan modul yang ditawarkan Phitagoras sesuai dengan kebutuhan dalam industri yang saya geluti, saya sangat merekomendasikan training – training yang ditawarkan oleh Phitagoras" Hendri Sigalingging – Genting Oil Kasuri Pte.Ltd
"Good provision for the training, deadline is met, all materials to learn is given, good food, good place to study include the equipment for presentation etc. Absolutely I will promote this training to my colleagues. Thanks!" Rendra A – PT. Pertamina EP
Thank You for attending Training NEBOSH, wish you all the best
We would like to express our thanks and gratitude to all participants of Training NEBOSH International General Certificate on Occupational Health & Safety in previous Batch.
They are :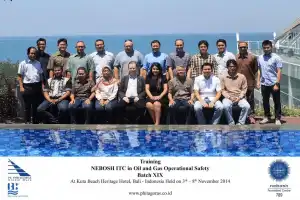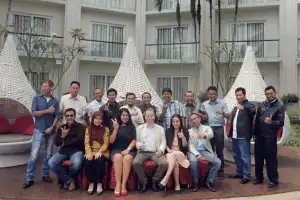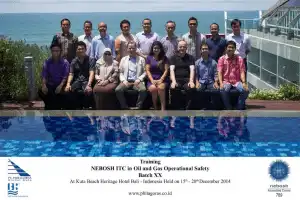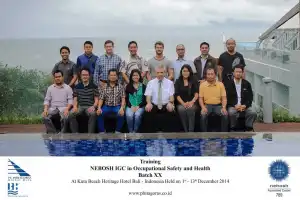 Why Choose Phitagoras?
Established in 2003, Phitagoras is the official PJK3 of the Ministry of Manpower with No. KEP. P. 052 / BINWASK3-PNK3 / XI / 2017 and the only QHSE Training & Consulting in Indonesia that already has ISO 9001: 2015 certificate with Certificate No. FS 669848 & OHSAS 18001: 2007 with Certificate No OHS 669850 from British Standard Institution (BSI ) and has 3 international accreditations from NEBOSH UK, CIEH UK and British Safety Council. Phitagoras also obtained a BNSP Competency Test Place license through LSP K3 ICCOSH and LSP OSHE Nusantara.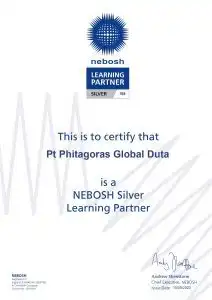 NEBOSH Form Registration