March 15, 2012
Posted by:

admin

Categories:

Health Safety at Work, Health Safety Environment, NEBOSH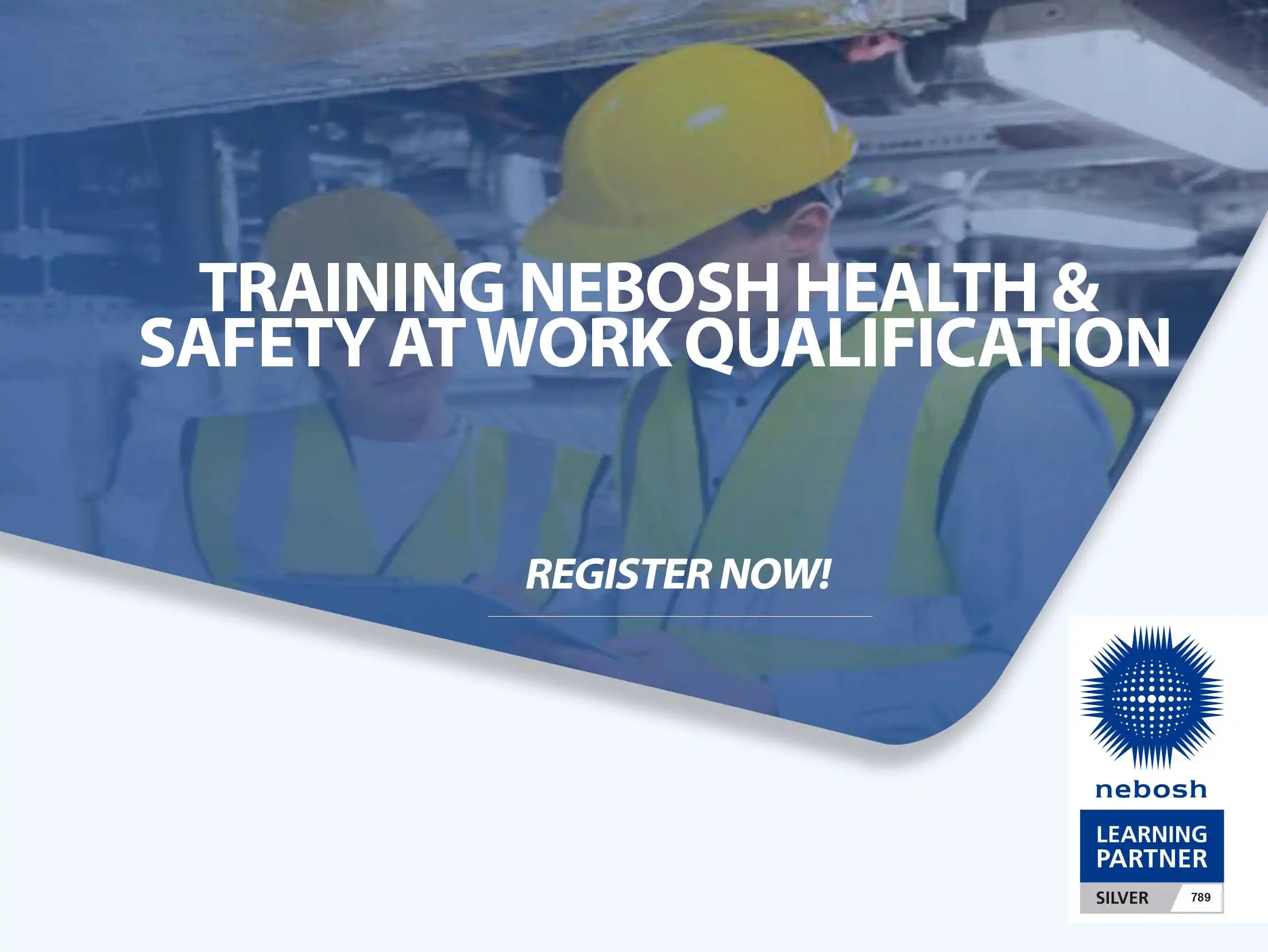 Training NEBOSH Health and Safety at Work, A health and safety course and qualification – for everyone
NEBOSH Health and Safety Work Qualification – Presented By KBA Training Centre Pte.Ltd, Singapore & PT. Phitagoras Global Duta, Indonesia A perfect introduction to Health & Safety. This introductory qualification provides a basic understanding of the management of health and safety. It improves the safety culture in your organization, by equipping your workforce to identify and deal with hazards at work – reducing accidents, doing jobs more efficiently, saving time and money. The qualification is designed to meet the needs of an international audience.
Who should attend this training nebosh ?
The training nebosh qualification isn't specifically for health and safety professionals. It is for personnel of all levels within an organization across all industry sectors who need to understand the principles of health and safety – Everyone is responsible for health and safety.
What are the benefits of this training nebosh ?
Training NEBOSH Health and Safety at Work Qualification proves that you have an essential skill for the modern workplace. This is an ideal first step towards other higher level NEBOSH qualifications. Organizations who seek to implement a basic health and safety training program, thereby ensure employees have an understanding of the principles of risk control so as to reduce the number of accidents and incidents resulting in cost saving for the business.
Training NEBOSH Health and Safety at Work Course Content
The contents of this training nebosh are covered in TWO units :- UNIT HSW1: Workplace safety foundations Foundations of health and safety Responsibility for health and safety Health and safety risk assessment and control Work Equipment health and safety Transport safety Electrical safety Fire Safety Health & safety during manual handling & repetitive activities Hazardous substances Health and safety in the working environment UNIT HSW2:  Workplace risk assessment Unit HSW2 is the workplace-based risk assessment activity.
Assessment
The training nebosh is assessed through a multiple choice examination & a practical risk assessment. After successful completion of the assessment you will attain the NEBOSH Award in Health and Safety at Work Qualification.
NEBOSH Training Investment
Special Price at US$ 1500/ person  We now accept credit cards The training nebosh Fee Includes: Jacket, Bag, Block Note, Flash disk, Lunch, 2 x Coffee and snacks each day, Study Book for the NEBOSH Health and Safety at Work Qualification, Course Workbook, NEBOSH registration & Examination fee
The Fee Excludes: Hotel accomodation, can be arranged by PT. Phitagoras Global Duta if required The Training NEBOSH Health and Safety at Work Qualification will be held on: Bandung 26 – 28 March 2013 Training Location Hotel Novotel Nusa Dua Bali  Address: BTDC Complex, Nusa Dua, Nusa Dua – Bali 80363, Indonesia. Phone:+62 361 8480555 Website: www.novotelnusaduabali.com. click here to view hotel Novotel Nusa Dua Bali on maps
FAQ ( Frequently Asked Question)
Silahkan klik link ini atau link Frequently Ask Question untuk mengetahui pertanyaan – pertanyaan yang sering dilontarkan seputar Training yang kami selenggarakan.
Phitagoras sudah disertifikasi ISO 9001:2015 oleh BSI dengan nomor sertifikat FS 669848 dan OHSAS 18001:2007 dengan nomor sertifikat OHS 669850
MENGAPA MEMILIH PHITAGORAS?
Berdiri sejak tahun 2003, Phitagoras merupakan PJK3 Resmi Kemnaker  dengan No. KEP. P. 052/BINWASK3-PNK3/XI/2017 dan satu – satunya QHSE Training & Consulting di Indonesia yang sudah memiliki sertifikat ISO 9001:2015 dengan No Sertifikat FS 669848 & OHSAS 18001:2007 dengan No Sertifikat OHS 669850 dari British Standard Institution (BSI) serta memiliki 3 akreditasi internasional dari NEBOSH UK, CIEH UK dan British Safety Council. Phitagoras juga memperoleh lisensi Tempat Uji Kompetensi BNSP melalui LSP K3 ICCOSH dan LSP OSHE Nusantara.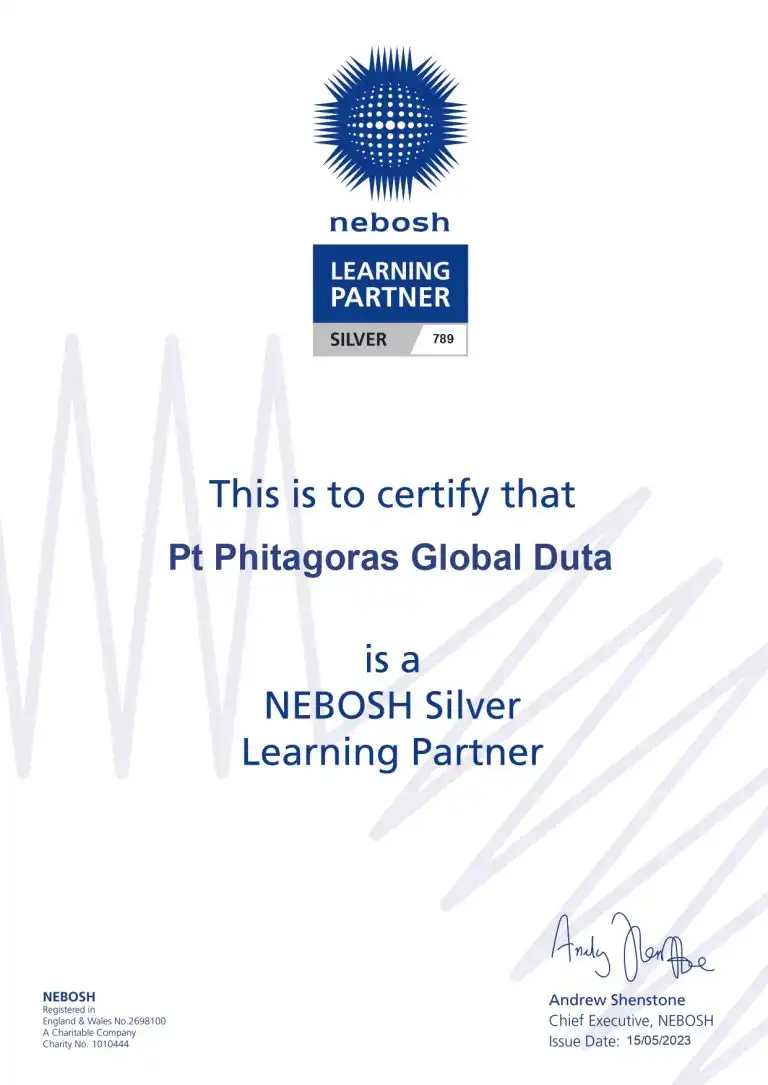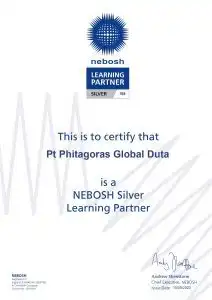 Registration NEBOSH Training